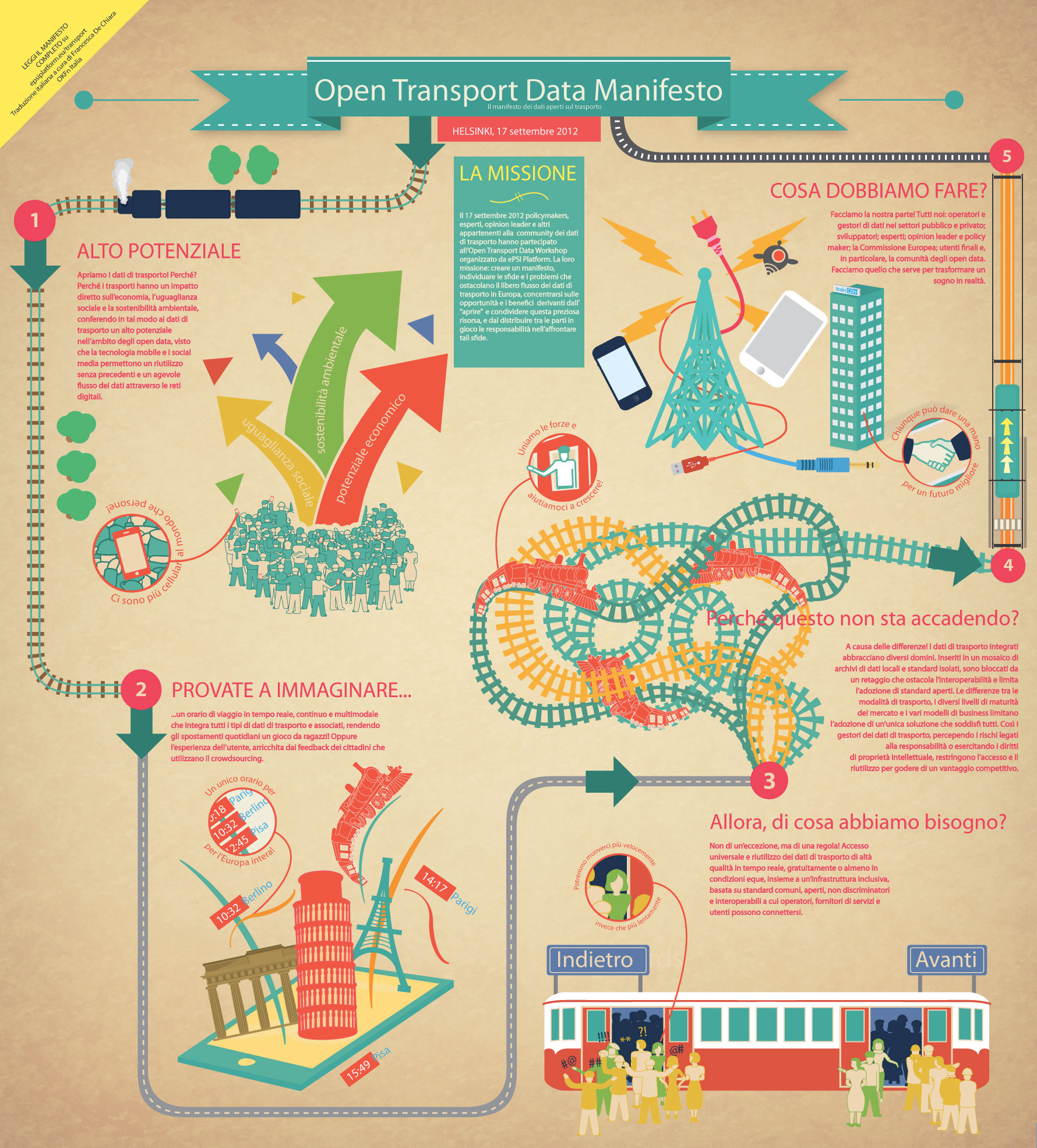 Il Manifesto è il prodotto di un workshop ePSI «Transport Data – fueling mobility of the future and smart cities» svoltosi a Helsinki in settembre durante l'OK Festival. La versione italiana è stata generata a cura di chi vi scrive in collaborazione con il chapter italiano di OKFN Italia.
33 partecipanti provenienti da 15 paesi si sono riuniti per discutere lo stato attuale del livello di openness dei dati di trasporto in Europa, le prospettive, i sogni, il potenziale così come le barriere e le possibili soluzioni per superarle. Marc de Vries, di ePSI dichiara:
Il manifesto e la visualizzazione catturano ed evidenziano il potenziale di avere dati di trasporto aperti a portata di mano, gli ostacoli e di conseguenza l'assegnazione delle responsabilità per affrontare queste sfide ai soggetti interessati. Come tali, essi cercano di stimolare un dialogo tra gli stakeholders individuando problemi specifici relativi ai dati di trasporto, che limitano la libera circolazione in tutta Europa.
Le questioni relative ai trasporti restano importantissime, perchè hanno un impatto diretto sulla forza economica, la sostenibilità dell'ambiente e l'equità sociale, dice il Manifesto. I dati di trasporto rappresentano una delle risorse più preziose dell'informazione pubblica. Policy makers (EU, a livello nazionale, locale e settoriale), operatori dei trasporti (sia pubblici che privati) e utenti finali devono liberare e condividere i dati e approfittare dell'enorme potenziale a disposizione.
Per aderire e partecipare è possibile iscriversi all' Open Transport Working Group di OKFN
Ulteriori notizie, come suggerito dal Manifesto, le trovate qui